Dla zdecydowanej większości warszawiaków, wielki apartament w jednym z prestiżowych wieżowców to tylko marzenia. Większość – gdy zdecyduje się na zakup własnego "M" – wybiera lokale o powierzchni około 50m2.
Najmniejsze mieszkania to domena Pragi-Północ i Woli. W tych dzielnicach, przeciętna powierzchnia kupowanego lokalu jest poniżej 50 m2. Na prawym brzegu Wisły wpływa na ten wynik stara, jeszcze przedwojenna zabudowa. Z kolei na Woli, sporo jest zbudowanych w czasach PRL-u, niewielkich mieszkań. Tę sytuację pogłębia jeszcze sytuacja na rynku pierwotnym. Wolę – przez bliskość do Centrum – upodobali sobie deweloperzy, którzy właśnie w tej dzielnicy budują osiedla z mikroapartamentami.
Według naszych analiz, największe mieszkania na rynku są na Wilanowie – przeciętna powierzchnia lokalu kupowanego w tej dzielnicy w ostatnich pięciu latach to 72 m2. Prawdziwy boom na duże mieszkania na Wilanowie już się jednak skończył. W 2013 roku, mieszkanie kupowane w tej dzielnicy miało średnio aż 86 m2. Potem rozmiar lokali zaczął jednak bardzo szybko spadać i teraz już tylko nieco przekracza 60 m2. Może to – przynajmniej częściowo – być skutkiem programu Mieszkanie dla Młodych, który wymuszał określony rozmiar lokalu. Większe niż przeciętnie mieszkania dominują też między innymi na Żoliborzu, Ursynowie i w Śródmieściu.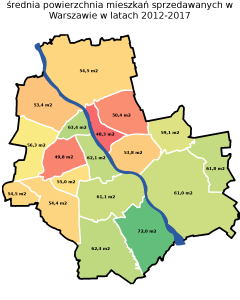 Podsumowując – ceny mieszkań rosną, a kupowane lokale się kurczą. Od 2014 roku, przeciętne mieszkanie zakupione w Warszawie zmniejszyło się o 3,5 m2.